Mosaico was born in 2014 to optimize and expand the expertise, the production and marketing activities of specialty papers, already present and operative for decades in Burgo Group. Specialization has made it possible to emphasize and enhance the distinguishing characteristics of Burgo's approach, starting with the production flexibility. After all, the first point of what Mosaico defines as the Think special Manifesto states: "if it does not exist, it can be invented."
Service culture
The ability to be flexible and to know how to respond with elasticity, efficiency, timeliness and constancy to customer requests are supported by a precise organization of the production: Mosaico paper mills are multi-specialized and the same product can be produced in different plants, even with different characteristics (weights, finishes, etc.). The choice of having five paper mills that are all geographically close is also significant, promoting a specialty papers production district in Northern Italy. The geographical contiguity ensures greater flexibility and speed in order fulfillment, facilitating a more frequent departure of containers. In addition to flexibility from the start, the capillarity of Burgo Group's international and intermodal logistics network also ensures Mosaico access to second-level loading points and hubs that guarantee reliable supplies and rapid deliveries in every market.
The organizational, productive and logistic system adopted by Mosaico offers customers an open order management (call-off): the customer can decide the quantity of one or more products of interest and that they will certainly order during the year, with an open delivery date.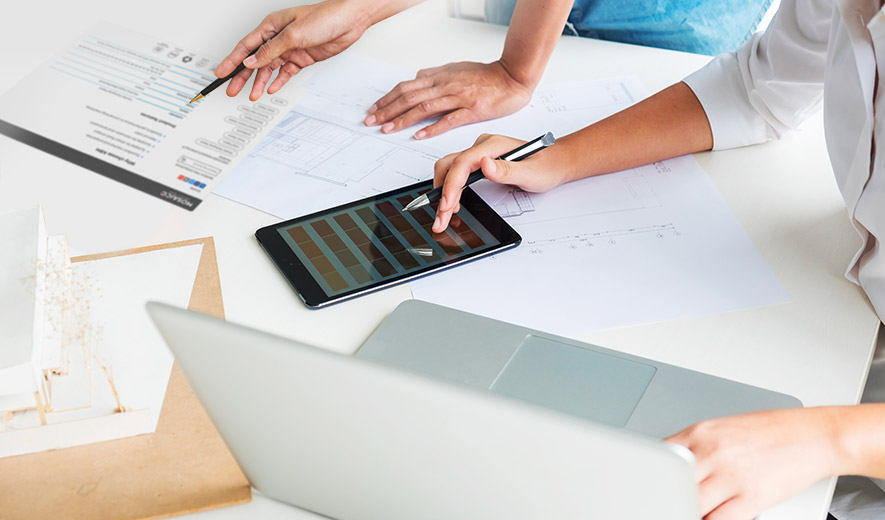 The strong orientation towards the customer and the culture of service is also and above all revealed in the diversification and customization of products. Developing new products or customizing the characteristics of an existing product to meet new customer needs is the maximum expression of the ability to listen to the customers, a skill that Mosaico considers fundamental and which allows to cover market niches otherwise left unheard. This attitude requires systematic compliance with operating rules that ensure process reliability, production consistency and a swift development of alternatives. Without discipline, in fact, it would be impossible to guarantee the efficiency and repeatability of production that must necessarily accompany creativity.
Innovation and sustainability
The willingness to listen to the needs – expressed or latent – of its customers nurtures Mosaico's vocation for innovation. In fact, the specialty papers sector requires constant research and development: this is why Mosaico invests in the updating of production technologies, in research on raw materials, in the development of new products, designed to respond to the evolution of the communication and packaging sector.
Research for the development of new products mainly focuses on two areas: paper and cardboard for the food & beverage industry and papers for special applications.
For food papers, particular attention is paid to the issue of the use of fibrous raw materials, preferring new compositions with a high qualitative and environmental value. This allows the development of papers treated with bio-polymers, a raw material with a high content of components from renewable resources and entirely biodegradable, with an excellent impermeability from water, fats and aromas, thus allowing to preserve the content from contaminants.
For the packaging market, which is also increasingly oriented towards environmentally friendly solutions, papers for flexible packaging and special uses are available, with a wide range of certified recyclable and compostable products.
Thus, Mosaico fits perfectly into the vision that sees Burgo Group committed to abandoning a linear production model in order to progressively move to a circular economy and truly green model, in which imagining a world without waste becomes possible.


More and more products, made with Mosaico specialty papers, are not destined to become waste at the end of their life cycle, but can become resources once again: like recycling paper, or compost.
The transition to a circular economy is also taking place in the Mosaico production process, above all thanks to a strong focus on:
the selection and treatment of raw materials, favoring the purchase of fibrous raw materials from responsibly managed forests and supplying through self-production a significant share of the consumption of cellulose and wood pulp;
the waste management, with a continuous increase in recycling and reduction of the waste sent to landfills, also through a significant recovery of supply and processing residues that are reintroduced into the production cycle as raw materials.
Discover the commitment and the actions for sustainability implemented by Burgo Group.
Go to page
A truly complete range
The experience gained over time and the constant commitment to research and innovation allow Mosaico to offer its customers an extremely wide range of specialty papers. The catalog is organized into eight categories, to ideally meet the different needs of the customers.
Organisational and Management models